We are delighted to be affiliated with "Our ship" HMS Portland  and her ships company

HMS Portland is a Duke Class Type 23 Frigate, designed for anti submarine warfare. She has a crew of 185, a range of 7,800 miles, and a top speed of 28 knots. She is armed with a 4.5 in main gun, Harpoon anti-ship missiles, and Seawolf anti-air missiles. She was built on the Clyde and was launched by the Ship's Sponsor, Lady Heather Brigstocke on 15 May 1999, and commissioned into the Royal Navy on 3 May 2001.
The Senior Naval Officer in charge is Lieutenant Commander Steve Blackbourn, Royal Navy.
As of November 2020 HMS Portland, Britain's second-youngest frigate, has begun to emerge from refits after going through a major overhaul. The frigate is due to begin sea trials in 2021 followed by extensive training.
📎Find out more: http://ow.ly/w2uT50CtdoZ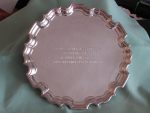 In 2006 the Branch commissioned a silver server to endow to HMS Portland as an annual award to a member of the ship's company who had performed over and above their normal duty.  The server (then to be known as the Portland Plate) has been awarded ever since.
The Branch are looking forward to the time when 'Portland' has completed her upgrade, when we can welcome her back into the Fleet, and renew our ties with the Ship's Company.