We are delighted to be affiliated with "Our ship" HMS Portland  and her ships company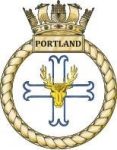 HMS PORTLAND is a Duke Class Type 23 Frigate, the eighth Royal Navy vessel to bear the name. She was built on the Clyde and was launched by the Ship's Sponsor, Lady Heather Brigstocke on 15 May 1999, and commissioned into the Royal Navy on 3 May 2001.
The Commanding Officer is Commander Tim Leeder, Royal Navy.
As of January 2021 the ship is in the final stages of a substantial regeneration package and preparing for Anti-Submarine Warfare operations. With a broad range of systems and capability upgrades, HMS PORTLAND will be the most advanced Frigate in the Royal Navy.
📎Find out more here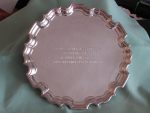 In 2006 the Branch commissioned a silver server to endow to HMS PORTLAND as an annual award to a member of the ship's company who had performed over and above their normal duty.  The server (then to be known as the Portland Plate) has been awarded ever since.
The Branch are looking forward to the time when 'Portland' has completed her upgrade, when we can welcome her back into the Fleet, and renew our ties with the Ship's Company.