Reporting back from Buckingham Palace, our Chairman Dan Sherren, as No.4 Area PRO, along with his wife Maureen, were honoured to be invited to the Not Forgotten Association Garden Party hosted by His Royal Highness Prince Henry of Wales KCVO (Harry) on Tuesday 30th May 2017.
"My wife Maureen and I joined over 2,000 former and serving members of the armed forces on a fair weather day with just a threat of rain which luckily did not materialise. The meet and greet team were at their best, full of energy and polite humour which made us feel so welcome. The security organisation for this event was excellent, as it had to be bearing in mind the tragic occasion in Manchester of the week before.
Hard to say who exactly were there from our area but the ones we did manage to bump into were having a very good day out in the capital's premier garden.  The Christchurch team led by Christine Payne, the Area " Sin Bosun"  Geoffrey Walsh and his wife plus of course George and Dennis from Dorchester who were excellent company throughout.   We know there were others present on the day but as I said we did not get to see them, even though we were strategically situated on the beaten track to the  heads!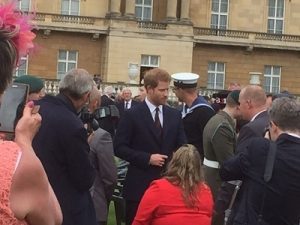 Her Majesty the Queen was not in attendance but her absence was made up in good measure by Prince Harry who kept his security team on their toes, wanting to stop to talk to everyone he came across during his walkabout.
Music was provided by the Band of the Corps of the Royal Engineers under the direction of Captain Oliver Jeans Corps of Army Music who also performed a beating of the retreat.  Pipe music was played by Pipe Major Duffy Scots Guards Association and Lance Corporal Spence Irish Guards.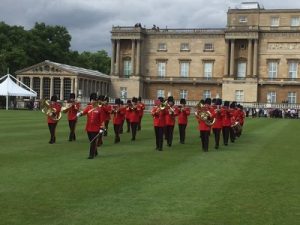 An excellent tea was served followed by lashings of strawberries and cream, the caterers had obviously done all this before and we made a point of thanking the Management team of the company, Ampersand who seemed a little taken aback, not being used to being thanked!
His Royal Highness departed around 1700 and we boarded our coach to return to the Union Jack Club
dropping off the Chelsea Pensioners enroute."
Yours aye
Dan Sherren MSM
No.4 Area PRO