Portland Town Council held the annual service of remembrance to mark the 73rd anniversary of the D-Day Landings on the 6th June. The event was held in Victoria Gardens, Portland, with the branch standard being very ably paraded by our Standard-bearer and President Ben Cartwright, despite blustery winds and squally showers.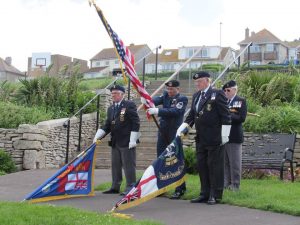 The U.S. military standard was also paraded, along with the HMS Ajax Veterans Association standard carried by Shipmate Alf Larkin. A small group of stalwart branch shipmates were also present.
It was an honour to meet several of the congregation there who had previously attended the inaugural unveiling of the memorial all those years ago. Apparently the weather was much the same!
The younger generation were also represented by the head girl and boy from the Portland Academy. The Friends of Victoria Gardens kindly provided very welcome refreshments on completion.