On the 21st October today's naval leaders gathered on HMS Victory's quarterdeck to mark the 211th anniversary of the Battle of Trafalgar – the most important day in the RN calendar.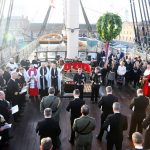 Second Sea Lord Vice Admiral Jonathan Woodcock led tributes to Nelson and his men, placing a wreath on the spot where the admiral was fatally wounded in 1805.
With the immortal signal 'England expects that every man will do his duty' raised on the partially-dismasted flagship (Victory is in the middle of the biggest overhaul in her post-active career), the 211th anniversary of triumph and tragedy at Trafalgar was commemorated.