On Saturday 22nd April 2017 Branch Members, wives, partners and friends, a total of 79, mustered at the Masonic Hall Victoria Square to dine out 'Dick' Barton. Unfortunately Ann was unable to accompany him due to ill health.
At 1915 our Toast Master, Charles H, asked Ordinary Cadet Rosie French to 'Pipe the Still'. This having the desired effect, she went on to, brilliantly, pipe 'Hands to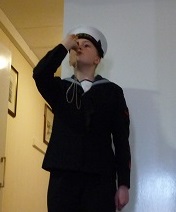 Dinner'. BZ to her. After our guest of honour had been escorted to his place by the Vice Chairman, Nigel Rimell, the Branch Standard was paraded in by S/M Ben Cartwright. After Grace, said by S/M Anne Robbins, we were treated to an excellent meal, served very efficiently by Cheryl and Lou and their teams.
Having, eventually, passed the port, the Vice Chairman proposed the toast to 'Our Sovereign Lady and Patron, Her Britannic Majesty Queen Elizabeth the Second' which was well received.
S/M Cartwright, having thanked the Committee for their hard work, and the Members for their regular attendance at meetings proposed the toast to 'The Royal Naval Association and the Portland Branch in particular.'
S/M Pam Oswald recited a poem 'Oh to be young again' printed on the reverse of the menu, before S/M Alex Oswald proposed the toast to 'Our Guests and Ladies.'
This was responded to, in an excellent manner by Dick Barton. Full of good humour and nostalgia. If I didn't know better I think he may have been caught in a down-draught from the boilers!
On behalf of the Branch Dick was presented with a bouquet of flowers for Ann.
The toasts being completed we were invited to 'Skylarking and Dancing.' Music courtesy of Paul Laming.
A big thank you to Dave and his team.
Same again next year (please).
Members raise £130 on the night, which was to be donated to the Portland St John Ambulance.
Ben Cartwright, President
24th April 2017
From the comments received a very good evening was had by all……………..
L.S. – "Can I be the first of many, to thank once again, Dave and the crew of Portland Royal Naval Association, for another superb Annual Dinner and Dining-out of Dick Barton and his lovely wife Ann. It was an excellent night once again. Very pleasurable for all. Well done Dave."
A.H. – "Great night, lovely friends and altogether another wonderful social event. Thanks Dave."
P.R. – "Another lovely night ~ thanks to Dave and all his helpers. Well done."
C.N. – "Good food, good friends, very good evening!"
Lots more photos are available in the photo gallery