A news item on the RN's website tells of HMS Portland's recent visit to Tristan da Cunha as she continues her South Atlantic patrol before slowly moving northwards  towards her homecoming in March.
http://www.royalnavy.mod.uk/news-and-latest-activity/news/2017/january/19/170119-hms-portland-visit-to-worlds-remotest-island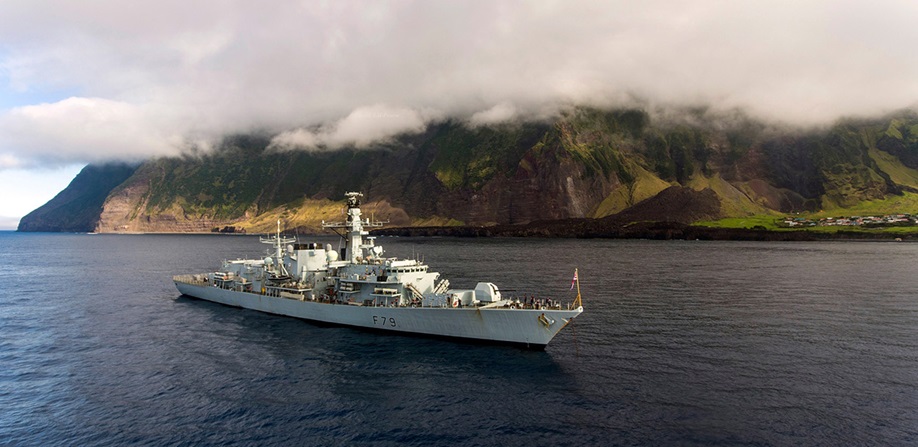 ---
A Welcome Letter From Lt Cdr Andy Parker, HMS PORTLAND's New Affiliation Officer
May I take this opportunity to introduce myself as HMS PORTLAND's new Affiliations Officer having taken over from Lt Cdr Adam Titcombe when the ship was alongside in Valparaiso, Chile.
I joined from Joint Helicopter Command in Andover and having been on board for a few weeks, I am delighted to report that I have joined a very fine ship.
I do not wish to steal the content of Captain Stroude's next update letter, however, I thought that I would appraise you with a quick flavour of what we have been up to. The ship spent Christmas alongside in the Falkland Islands, where on Boxing Day a few personnel enjoyed a bracing quick swim in the sea. In the New Year we visited South Georgia where it was very cold, but this could be forgiven as it was an amazing place to view wildlife and admire the spectacular scenery. Last Saturday evening we spent the night at anchor off Tristan da Cunha, which is inhabited by just 270 people. In the morning when the low cloud eventually dissipated, we were able to enjoy the magnificence of the volcanic island and used the opportunity to land personnel ashore. Since then the ship has transited north, the weather has improved, with the daily temperature now in excess of 30 degrees. Today we stopped in the water to pipe 'hands to bathe', where many people enjoyed the thrill of jumping into the sea for a swim.
I will stop there now, but your affiliated ship continues to represent the Royal Navy around the globe. HMS PORTLAND has completed just over seven months of her deployment and preparations are starting to be made for our arrival home in March.
I look forward to engaging with you very soon.
With kind regards,
Andy