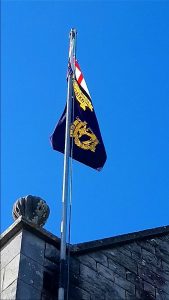 The Portland Branch of the Royal Naval Association hosted the September 2017 No.4 Area meeting at the Conservative Club Easton on the Royal Manor of Portland on Saturday the 16th.
The meeting was opened by the Portland Town Deputy Mayor, Councillor Charlie Flack (a former CPOMA and now a Portland branch member) accompanied by his wife Maria. Councillor Flack gave an abridged version of the history of Portland and both he and Maria remained with us until completion.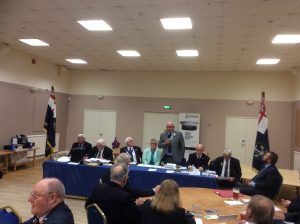 The standard was marched on by the Area standard bearer Ben Cartwright and Shipmate Chaplain the Reverend Geoffrey Walsh offered prayers.
It was encouraging to see so many branches attending – AXMINSTER, BRIDGWATER, BRIDPORT, CHARD, CHRISTCHURCH, DARTMOUTH, DORCHESTER, FALMOUTH, FERNDOWN, FROME, LAUNCESTON, LISKEARD, PLYMOUTH, SALTASH, SOUTH BRISTOL, TORBAY, TORPOINT & RAME PENINSULA, WEYMOUTH, PORTLAND.
During the meeting our President David White presented a cheque for £2,300 to Mr Geoff Robertson on behalf of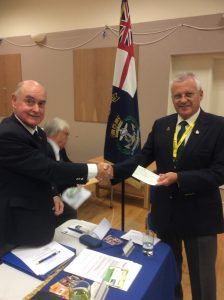 Scotty's Little Soldiers, a charity dedicated to supporting bereaved British Forces children. Geoff went to great lengths to enlighten us on the mission of the charity.
Continuing the Charity theme.
A presentation by Mr Tim Corke of the Royal Navy and Royal Marines Charity outlined the works of the RNRMC and how as branches and individuals we can contribute. More info is available at rnrmc.org.uk for those who dabble in the nether world of the internet!
DNCM Shipmate Gutteridge read a report of proceedings from the National Council.
The President closed the meeting, but not before he had presented me with a £200 cheque for the Portland Branch. We are more than happy to host again as and when required.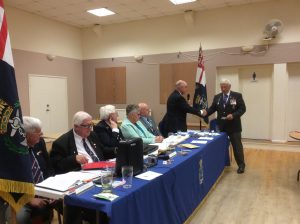 Of the branches attending we were very pleased to have the following remain for the evening social; AXMINSTER, BRIDPORT, CHARD, DARTMOUTH, DORCHESTER, TORPOINT & RAME PENINSULA, WEYMOUTH, FALMOUTH. With almost 30 raffle prizes on offer I believe everyone had a fair chance of getting something to take home. The daytime raffle was a huge success with another 30 odd prizes not counting the rum raffle, which our social secretary won!
Our branch has benefited greatly from this weekend's activity both financially and from publicity in the local area with new members keen to join.
For those branches who feel they are unable to host the area meetings please think about what it can do for you, we at Portland will always offer any help you may need in the way of organisation etc.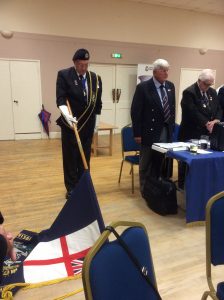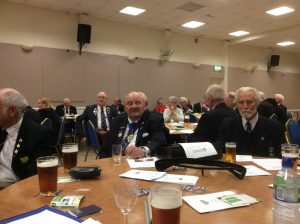 Looking forward to Saltash for the next meeting.
Yours Aye
Dan Sherren MSM
Portland Chairman
Area 4 PRO