Shipmates,
We mustered at the Parish Church of St Mary the Virgin, Swanage on Sunday 13th August 2017.
Eleven Standards representing a variety of organisations from all over the South and South West of England attended a Service to mark the centenary of the action on 8th August 1917 by Q-5 Dunraven, also known as HMS Farnborough, and to honour the memory of Chief Petty Officer Ernest Pitcher VC, DSM, Medaille Militaire, Croix de Guerre. And those with whom he served.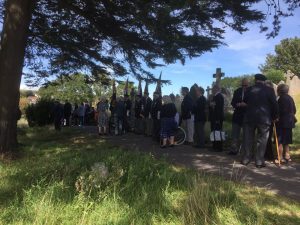 The standards were very well supported by attendance of family, friends and Shipmates from No. 4 Area of the RNA. Following the service we moved across to Northbrook Cemetary to pay heart felt tributes at the grave sites of CPO Pitcher and other Naval ratings, one of which was that of a boy seaman, only 15 years of age.
A very worthwhile undertaking by everyone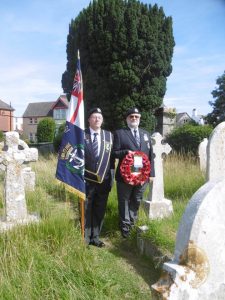 , especially so those that traveled all the way up from Cornwall.
Thanks to Carol Nelson and Maureen Sherren for the photographs.
Yours Aye
Dan Sherren MSM
No. 4 Area PRO