Our Branch PRO Maureen, and shipmates Dan and Pete had an amazingly successful fund raising day for our branch at the Southwell Street Fayre on Saturday.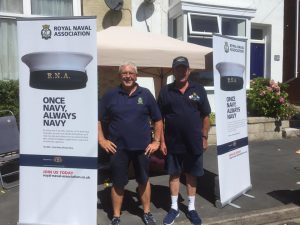 "A really good learning curve and enjoyed every minute on our stall today, hard work but for a worthy cause. Thanks to Peter for his support and helping to raise over £100 for our branch. Next one August 19th at the Portland Summer Fete, Royal Manor Playing Field Weston from 2:00 pm till late. Lots of things going on so come along and enjoy yourselves".
Maureen, Branch PRO.